Online Divorce
in New York
Simple process to get divorce papers online
Affordable pricing plans with no hidden fees
Unlimited changes to forms and free revisions
Divorce papers ready to download in two business days
Step-by-step filing instructions
Award-winning tech support for all customers
Divorce in New York is quick and easy
Divorce Online in New York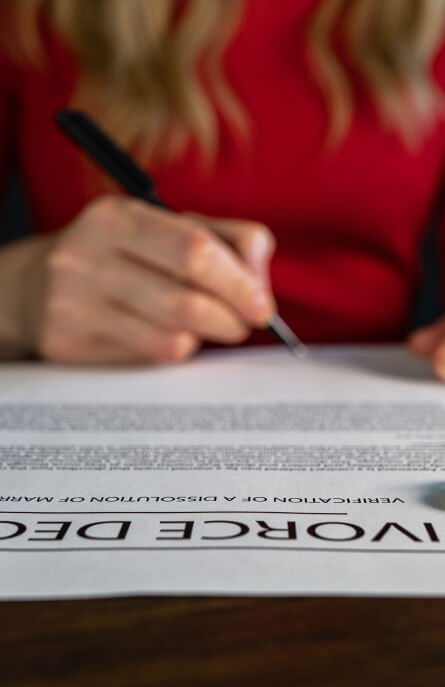 If a couple has an uncontested divorce in New York, the quickest and most efficient option is to contact an online divorce service. OnlineDivorceNewYork.com offers the necessary completed divorce forms ready to download within two business days.
To do this, you just need to complete the online questionnaire so that the system can get the details of your case. The service also provides detailed instructions for filing the documents with a court, saving time and nerves.
Here are the main advantages of an online divorce platform:
Complete freedom of action.

Spouses are not tied to any place or the schedule of a lawyer. They can fill out all the documents without leaving home directly from their computer or smartphone.

Thoughtfulness and lack of haste.

A couple completes the forms at their own pace. If you need more time — you use this opportunity. If spouses need to go back and fix a mistake, they are free to edit.

High result speed.

Ex-partners receive ready-made forms for downloading within just two business days.

Independence from an attorney.

You aren't restrained by a lawyer's schedule. Work with the papers at a time and place that is convenient for you.

Easy filing.

We offer detailed instructions for filing paperwork with a court, saving your time.

Low price of the service.

This option costs several times less than the most affordable flat-rate lawyer for uncontested divorces.
We ensure that the process of preparing documents is as smooth, simple, and understandable as possible for you. So why waste extra time and huge sums on a lawyer if you can turn to an online divorce service?
Compare Your Options for Filing for Divorce in New York
Divorce With a Lawyer
The traditional divorce process requires the parties to have lawyers who represent their interests in court.
Litigation is the most energy-intensive divorce option;
Lawyers provoke even more drama because they want to win in court at any cost;
Spouses have to adjust to the lawyer's schedule;
The atmosphere at court hearings negatively affects minor children;
New York divorce lawyers typically charge $305 — $380 per hour.
New York Divorce Online
A fast and cheap option, ideal for uncontested divorces. Clear and transparent process of selection and submission of documents to the court.
You work with all documents online from any place convenient for you;
Flat rate to access all forms;
No hidden fees;
Intuitive and straightforward platform interface with detailed instructions;
The service is much cheaper than even the most affordable lawyers in New York.
DIY divorce
The easiest and cheapest solution is to have a do-it-yourself divorce. However, this does not guarantee correctly completed forms or the speed and efficiency of the case as a whole.
Can lead to an unfair outcome;
There is no certainty that the documents are filled out correctly;
One mistake — and the court will not accept the form;
May lead to additional financial investment if it escalates into a contested divorce;
Often delayed due to a person's ignorance of their rights.
Here's how our process works.
Looks complicated?
Get your hassle-free divorce
Provide your case details
2
File for Divorce Online in New York Without a Lawyer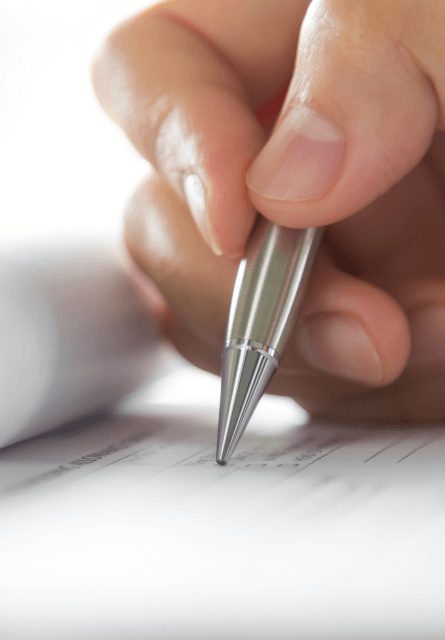 Filing Requirements for Online Divorce in New York
Before a spouse files for divorce in the state of New York on their own without the involvement of an expensive lawyer, they must make sure that they and their spouse meet the residency requirements.
Next, spouses must have legal grounds for the dissolution of the marriage. The New York court recognizes both fault and no-fault divorce. If a petitioner files for a divorce based on fault, they assert that their spouse is responsible for the dissolution of the union. The reason may be adultery, cruel or abusive behavior, abandonment, etc.
If an applicant chooses a no-fault divorce, the most common ground is the "irretrievable breakdown of the marriage." It means they and their spouse cannot be together, and reconciliation is impossible in their particular case.
There are the following options to file for divorce in New York:
Spouses can file the required paperwork online through the NYSCEF — the New York State Courts Electronic Filing system;
A couple can send documents by mail to the court;
Spouses can come to court in person and file divorce papers;
Ex-partners can use the additional services of OnlineDivorceNewYork.com for filing documents with the court.
When filing for divorce, the spouses must pay New York court filing fees, $335.
Do-It-Yourself Divorce in New York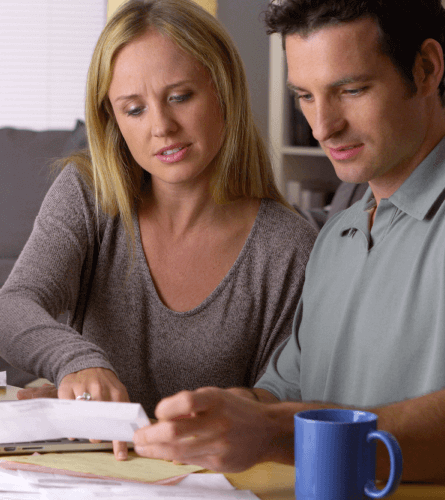 An uncontested divorce is a good base for a do-it-yourself divorce. So, where does a couple start if it wants a DIY cheap divorce in New York?
1. Meet the residency requirements.
For the New York courts to consider the case, a spouse must prove that they meet the residency criteria. To do this, they or their spouse must have lived in New York for at least a year before filing for divorce.
2. Give legal grounds for divorce.
There are seven reasons for divorce that New York considers sufficient. Among them:
Adultery during marriage
Abandonment of a spouse (need to prove that the spouse left for at least one year)
Inhuman or cruel treatment
Imprisonment of a spouse for three or more consecutive years after marriage
The relationship has been cut off for at least six months (commonly referred to as no-fault divorce)
Divorce after legal separation (spouses must sign and file a Separation Agreement and live separately for one year)
Divorce after a judgment of separation
3. Prepare all necessary forms.
Remember that papers will be different depending on whether spouses have children or not. After completing the documents correctly, they need to file a Summons and Complaint with the county clerk's office. Please note that some courts allow filing online using NYSCEF. Check the list of counties to see if the needed county has an e-filing system.
4. Serve a respondent with a copy of the original divorce forms within 120 days of filing them.
A plaintiff can't serve a copy of the documents in person: if their spouse lives in New York, anyone who lives in New York, is over 18, and is not directly involved in the divorce can deliver the forms to them. Also, the person who hands over the papers to their ex-partner must file an "Affidavit of Service" with the court.
5. Wait for the respondent's response.
The defendant will have 20 days to respond after being served with the divorce complaint. They will have 30 days if they receive an out-of-state complaint. If the divorce is uncontested, the spouse will sign an "Affidavit of Defendant." If the divorce becomes contested, the respondent will respond to something said in the complaint.
6. Put the case on the court calendar and wait for the court hearing.
A couple will need to complete the remaining applicable forms to schedule the divorce case. After completing them, they can submit them to the clerk. If the divorce is approved, the judge will sign the divorce decree. The defendant must be served with a copy of the signed decision.
All Required New York State Forms.
New York-Specific Court Filing Instructions.
Unlimited Revisions for as long as your account is active.
Getting a Divorce With Children in New York
If spouses have children, they should consider the following points when divorcing.
Matters relating to custody, alimony, and visiting hours must be agreed upon before the judge signs the divorce decree. This applies only to children of the marriage. "Children of the marriage" is a legal term that refers to children aged 20 or younger born or adopted by spouses before or during the marriage.
For all children in a marriage, a child support decision must be made before the divorce. A custody and visitation decision must also be made for all children of the marriage aged 17 years and under before the divorce is granted.
There are two types of legal custody in New York:
Sole custody

means that one of the parents can make decisions regarding the child. The other parent may be entitled to receive educational information but not decide.

Joint custody

means that both parents share the power to make decisions about the child. In joint custody, parents need to communicate well enough to inform each other of the child's needs and make decisions together.
Courts in New York City use the specific terms "physical custody" or "primary placement" to describe where a child primarily resides. Also, "visitation" or "secondary placement" refers to time spent by the other parent.
However, there are times when issues of custody, visitation, and alimony can be considered part of the divorce process itself. In this case, these issues are raised and resolved as part of the divorce judgment and may take some time.
Residency Requirements in NY
There are several conditions under which spouses can meet residency requirements in New York:
The wedding ceremony took place in New York. Moreover, at least one of the spouses lived for at least one year in New York before filing for divorce;
The couple lived together in New York, and at least one of them was a resident of the state for at least a full year before filing for divorce;
The reason for filing the divorce papers was in New York, and both spouses were New Yorkers at the time;
If the spouses were not married in New York and never lived as husband and wife in the state, one of the spouses must have lived in New York State at some time and also lived there for at least two years before divorcing.
How Long Does It Take to Get a Divorce in New York
Naturally, the duration of a divorce in New York State directly depends on the type of divorce. So, for example, if we are talking about an uncontested divorce, then on average, it takes up to three months. On the other hand, if we are talking about contested divorce, it can last nine months or longer, depending on the nature of the dispute.
As for the waiting period, once the petitioner has filed for divorce in New York, there is no official waiting period before the judge finalizes the case.
The time a couple spends filing for a divorce depends on two things: the court's workload and how quickly the defendant can return the necessary copies of the documents to the applicant. This is why some uncontested divorces end in five or six weeks, while others can take up to six months.
Since there is no waiting period in New York State, an uncontested divorce takes about three months on average. But, of course, if there are issues on which the parties disagree, this can make the divorce process longer.
Customer Testimonials
Timely response getting the forms and easy downloads. Patience is the keeper to getting through the process. Thank you DivorceOnLine.
I had a lot of anxiety about filling out the paperwork myself to the point where I put it off for almost 5 years. I found this site and it made everything so easy. I had to call customer service about a couple of questions I didn't know how to answer and they were informative and helpful.
All questions were very straightforward and everything was easy to navigate through
The service was great from start to finish. I love how fast they called to make sure everything was in order and ready to go. Easiest way to go.
Really simple process and super convenient! Highly recommend it to anyone.
Seems to be a very helpful and less stressful service for me being that I am disabled. Thank you for your help.
My divorce forms was put together quickly. Process was easy and seemless.
I would recommend this service. It's so easy, you can do everything yourself.
I found this process to be easy and stress free. It was clear and self explanatory.
Frequently Asked Questions
How to file for an uncontested divorce in New York?
Firstly, the spouses should meet the residency requirements. Then, the couple gives legal grounds for divorce and gathers all required information to complete the divorce papers for an uncontested divorce. The next step is to prepare and file the necessary forms. Afterward, one spouse serves the documents to the other and waits for their response. Finally, ex-partners put their case on the court calendar and wait for the court hearing.
How much does a divorce cost in New York?
The average cost in New York is about $17,000, including all fees and attorneys' services. An uncontested divorce will cost you an average of $5,500, and complex disputes in a contested divorce can cost as much as $50,000.
How to get a free divorce in New York?
The minimum filing fee for an uncontested divorce in NY is $335, including the index fee. However, if there is an extreme financial hardship, a couple can apply for a fee waiver for the court fees.
How to get divorce papers in New York?
The spouses can find all the necessary blank forms on the New York State Unified Court System website. However, if they don't want to waste their time and nerves on this, they can always turn to OnlineDivorceNewYork.com. We will send the ready-made forms focused on the specific case in two business days.
Where do I go to file for an uncontested divorce in New York?
The petitioner files the papers with the County Clerk's Office, where the court fees are paid, and where the case files in the county are kept for the Supreme Court. Also, the applicant can file the papers over the internet using NYSCEF — the New York State Courts Electronic Filing system.
What are the grounds for divorce in New York?
There are seven grounds for divorce in New York. Among them are adultery, abandonment, inhuman or cruel treatment, imprisonment of a spouse for three or more consecutive years after marriage, the relationship has been cut off for at least six months, divorce after legal separation, divorce after a judgment of separation.
How is property divided in a New York Divorce?
New York is an equitable distribution state. Thus, in a divorce, the division of property is carried out in the "most fair" way for both parties. On the other hand, the property of the spouses is 50/50 in the state with common property.